Perfect Backup includes two tools which can be used in your work for any purposes: FTP Client and Cloud Client.
There are two ways to open Cloud Client:
•You can select "Cloud Client" item in the main menu -> Tools.
•You can select "Cloud Client" item in the popup menu of the tray icon.
Main window of the Cloud Client: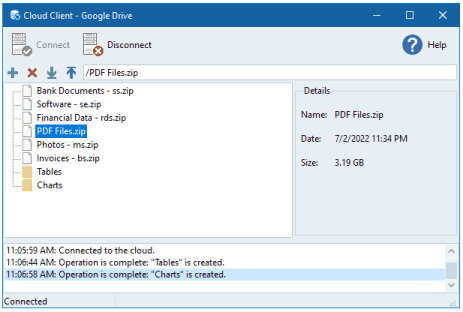 Use the following buttons to control the program: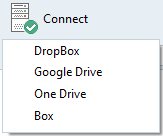 - connect to your Cloud account. Click "Connect" button, and select from dropdown menu one of supported cloud services: Dropbox, Google Drive, Microsoft OneDrive or Box (www.box.com).
The app may require authorize it in web browser to be able to add files and create folders in your cloud account.

- disconnect from the cloud.

- Open this page of the user guide.
- Create new folder in the current directory.

- Remove selected file/folder

- Download selected file.

- Upload file to current directory.
To change directory, select the corresponding node in the free.